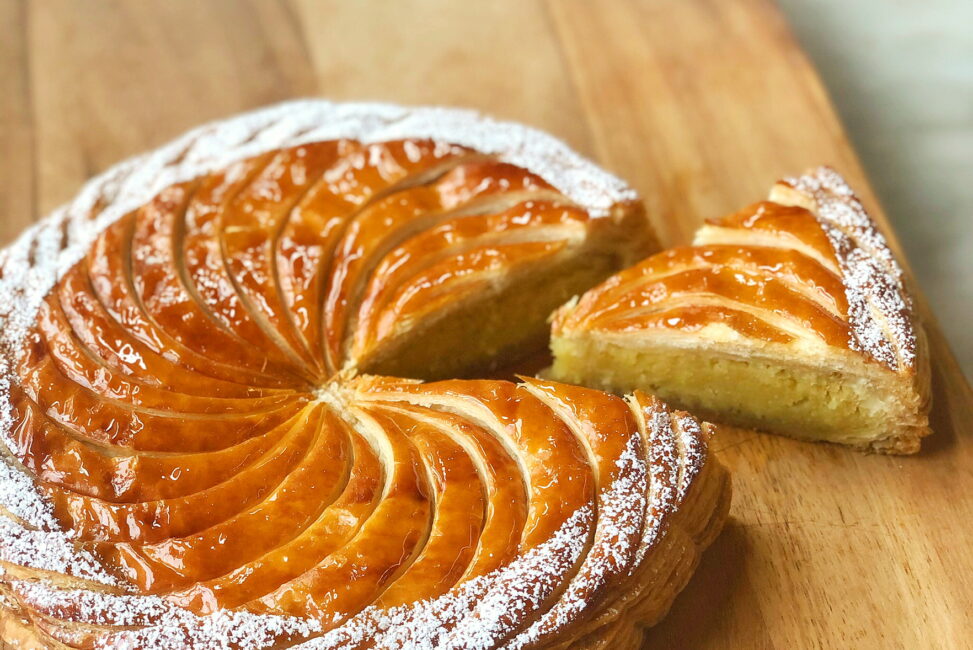 PRODUCT PICKUP
Pre-order for pick-ups in FLATIRON from Sunday, December 26th – Sunday, January 23rd. 
Your items will be available for pick-up only on the specified date; it will not be kept for a pick up on a later date. Items must be ordered at least 2 days before date/time of pick up. If you need your items sooner, please try calling the store at 212.901.1015 as orders can sometimes be processed faster pending availability.
STORAGE
Please DO NOT refrigerate, as the humidity causes the galette to become stale. Keep at room temperature and consume within 24 hours of purchase. For best results, reheat in oven at 350 degrees F until warm for roughly 10 to 15 minutes.
Galette des Rois
$48.00
Available now for online pre-orders for Flatiron NYC in-store pick-ups from Sunday, December 26th – Sunday, January 23rd
Celebrate Epiphany with our Galette des Rois (or "Kings Cake"), a traditional French pastry filled with almond frangipane and made with a flaky reversed puff pastry crust. Think: almond croissant in cake form! Each comes complete with a fêve (or a small prize) and a golden paper crown so that the winner who finds it is declared King for the day!
A little more background: The Galette des Rois is traditionally served in France to celebrate the Epiphany (which starts January 6th), the day when the Three Kings visited Baby Jesus. The season for Galette des Rois lasts from Twelfth Night to Mardi Gras.
Approximately 8″, serves 6-8.
Please note our holiday hours:
New Year's Eve (Fri 12/31): 8AM-5PM (please do not select a time later than 4pm)
New Year's Day (Sat 1/1/22): CLOSED
Out of stock